CHANGES TO UK GLOVE SIZES FOR EU REGULATIONS
Glove Sizes Changing From UK to EU Sizes
In recent weeks, some customers purchasing gloves may have seen a difference in the gloves sizes to what they have previously had. Where previously glove sizes may have been available in half sizes, i.e. 8.5, 9.5, 10.5 etc some gloves are now only available in full sizes – 8, 9, 10 and so on.
EU Manufacturers have gradually been changing sizes on their gloves so that they are now sized in accordance with EU sizing rather than UK Sizing. However, where the glove sizing may have changed in terms of specification, the actual physical glove hasn't changed at all. This means that physically the gloves are the exact same size as before, and the only change is the size stated on the glove which is usually half a size larger than the size it was previously labelled as.
Whilst this change in glove sizes may be an inconvenience to some in the short term, we hope that this will eventually result in better standardisation of glove sizes in the UK and the EU and bring further ease of ordering for all parties, therefore stockholding for both distributors and consumers will become simpler rather than cause further confusion.
Below is our guide to making sure you have the right glove sizes.
Find Your Correct Glove Sizes:
Making sure that you get the correct glove size is imperative for employees. Not only for safety but for their comfort at work too. Remember that not all hand sizes are alike – palm and finger lengths can change, so make sure you measure your hands correctly to get the best fitting glove for you. However, no measurements can be a good substitute for actually trying the gloves on.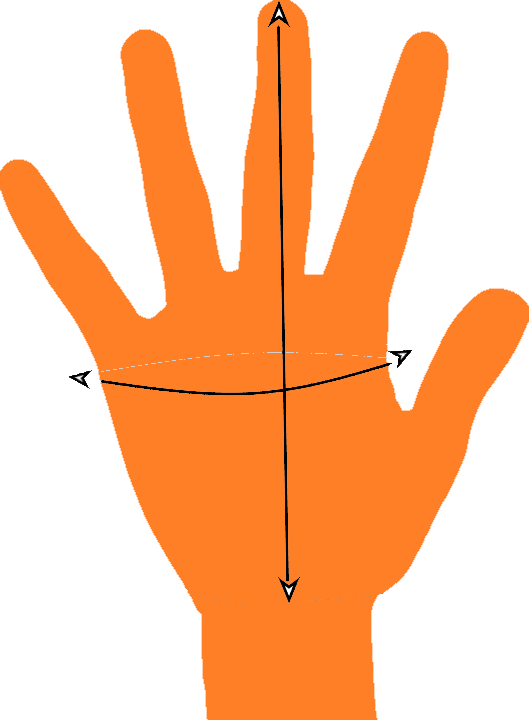 To make sure you purchase the correct gloves, measure around the widest part of your hand – usually the circumference of your palm and knuckles – with a tape measure (excluding your thumb). Ensure you measure your dominant hand so that you can be sure the glove will fit properly.
Using these measurements, find out your correct glove size from the table below:
If you have any queries regarding these changes, please don't hesitate to contact your Hazchem Safety Account Manager who will be glad to assist, or contact us here: Contact Us
| Glove Size | EU Size | UK Size | Inches | Centimeters | Sizes |
| --- | --- | --- | --- | --- | --- |
| 7 | 7 | 6.5 | 7 | 18 | XS |
| 7.5 | 8 | 7.5 | 7.5 | 19 | S |
| 8 | 8 | 7.5 | 8 | 20.5 | S |
| 8.5 | 9 | 8.5 | 8.5 | 21.5 | M |
| 9 | 9 | 8.5 | 9 | 23 | M |
| 9.5 | 10 | 9.5 | 9.5 | 24 | L |
| 10 | 10 | 9.5 | 10 | 26 | L |
| 10.5 | 11 | 10.5 | 10.5 | 27 | XL |
| 11 | 11 | 10.5 | 11 | 28.5 | XL |
| 11.5 | 12 | 11.5 | 11.5 | 29.5 | XXL |
Conversion of Glove Sizes